Students
Co-curricular activities
OSC believes that co-curricular activities complement academics and plays an essential role in providing a wholistic education. The CAS provides students with unique opportunities to participate in different co-curricular activities such as sport, broaden their creativity through music, painting, or acting, or being part of an After School Activity (ASA).
Sports
OSC believes that participating in sports inculcates in students a sense of sportsmanship and fair play, leadership, teamwork, as well as competitive spirit. All students at OSC participate in weekly physical education classes which includes swimming. In 2019/20, the OSC Geckos excelled in a number of competitive sporting events. Our students competed in SAISA (South Asian International Schools Association) Sports Conference which includes swimming, basketball, soccer, and athletics. Further, we participate in local sports events against other schools in Colombo.
Gecko athletics
It was yet another exciting, but short year for Gecko Athletics and it will go down in history as the year we were affected by the world pandemic COVID-19, which brought season three to a halt almost before it started. Yet the student participation was commendable. Over 140-student athletes joined our teams and learnt what can be achieved through commitment and training. Our coaching teams have set high standards, spent long hours planning, training and managing competition, all with the goal of helping our students to learn and develop their athletic selves.
The Gecko Athletics uniforms continue to be more visible around the school, and are worn with pride by athletes from grade 5 right through to our graduating class of 2020. They will undoubtedly take our name to countries around the world in the coming months. Our students have represented their universities in track, court, and the pool in the UK, USA, and Czech Republic.
Football friendly with Gateway College Colombo
New to us this year was an invitation for our Senior Girls Football team to play Gateway College Colombo in an exhibition game as part of their Neville De Alwis-Ralph Alles Challenge Trophy, at the Racecourse. The ladies put on a great game and beat Gateway 5-4 in a penalty shootout.
Co-curricular activities: Primary
The Primary after school activities form an integral part of the student's curriculum at OSC. We have had active participation from our primary students in the varied activities offered by OSC. The following tables indicate the different activities offered by OSC and student participation statistics for the year 2019/20.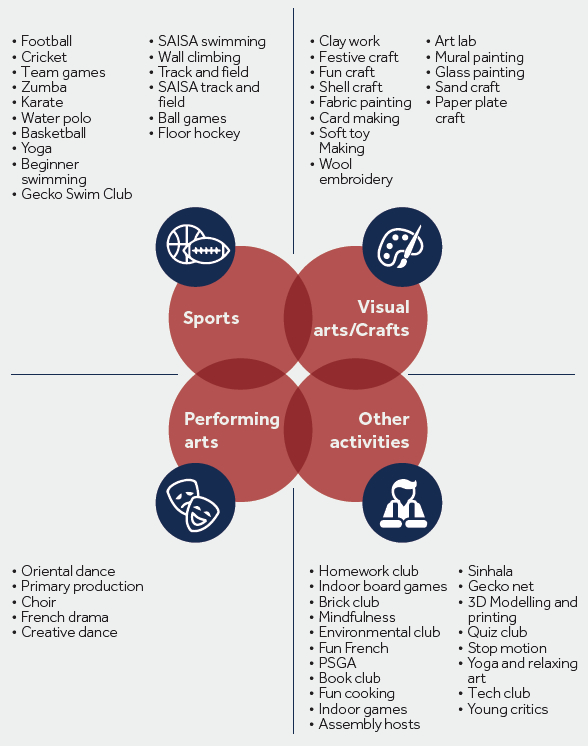 | | | | |
| --- | --- | --- | --- |
| Block 1 | Number of activities 2019/20 | Number of students signed up for activities 2019/20 | Number of students in the grades |
| Block 1 | | | |
| KG | 9 | 14 | 15 |
| Gr. 1-5 | 37 | 124 | 141 |
| Block 2 | | | |
| KG | 12 | 14 | 15 |
| Gr. 1-5 | 40 | 126 | 141 |
| Block 3 | | | |
| KG | 12 | 13 | 15 |
| Gr. 1-5 | 37 | 124 | 141 |
Co-curricular activities: Secondary
In the Secondary School, the co-curricular activities programme continues to be an essential feature of the educational opportunities provided to our students. This year's focus was on developing a broader choice for students in activities they could participate in. This included the introduction of lunchtime activities and the Duke of Edinburgh programme.
We also introduced Gecko Robotics, which worked on preparing a team to participate in the First Lego League competition in Singapore (due to the COVID-19 pandemic this competition was held remotely). The level of teacher involvement continues to be excellent, with 90% of teaching staff participation.
Overview of ASA activity for 2019/20*
Percentage (%) of students engaging in types of ASA activities over three terms
| | | | |
| --- | --- | --- | --- |
| | Secondary | MYP | DP** |
| Creative | 73 | 83 | 75 |
| Active | 92 | 90 | 91 |
| Service | 99.5 | 99 | 100 |
Percentage (%) of students engaging in multiple types of ASA Activities over three terms
| | | | |
| --- | --- | --- | --- |
| | Secondary | MYP | DP |
| Only 1 type | 3 | 3 | 1 |
| Only 2 types | 43 | 50 | 28 |
| All 3 types | 54 | 47 | 71 |
* Data is based on 208 secondary students (161 MYP, 47 DP)
* Data is formulated from ASA student sign-ups only
* Data does NOT include Block 4 due to COVID-19 pandemic
** DP students can qualify for CAS credit through other programmes beyond ASA
Overview of ASA offerings for 2019/20
Activities offered throughout Block 1, 2, and 3
Creative
3D Modelling and Printing
Arts Club
Print making Creative Clay
Beginning Sinhala
Boys Voice
Chess
Colouring
COMUN
COMUN Exec
Concert Band
The Art of Pie making
Dungeons and Dragons
Instrumental Lessons
Gecko Robotics
The Advocate
Minecraft*
Whole School Production
Middle School Voice
Photography
Senior Voice
Star Wars Coding
Steam Gaming
String Ensemble
Yearbook
Active
Badminton*
Basketball
Batting games
Duke of Edinburgh
Football
SCUBA*
Table Tennis*
Wall Climbing*
Body Conditioning

Cricket
GA Badminton – G/B
GA Basketball – G/B
GA Football – G/B
GA Swim Club – G/B
GA Track and Field – G/B
GA Volleyball G/B
Swim Club – for skill building
Ultimate Frisbee
Zumba

Service

ASA - Gecko Events Crew
ASA - MS Student Council
ASA - Student Council
Care for Paws
Checkmates
Community Film
Deaf-Hearing Exchange
Gecko Inc.
Girls for Girls
Helping Hands
Hope for Kids
Housing and Habitat
RCCI (Rehabilitation Centre for the
Communication Impaired)
Recycling and Sustainability Reef Keepers
SOS Village
Temple School
Academic support
MYP Survival
DP Survival
Math Club
EAL HW Club
HW Club
SAT Verbal
SAT Maths
Study Hall
College Readiness
*Activities reaching full registration.
Bold activities are new this year.
Performing arts
An integral part of OSC's curriculum, the performing arts not only provide opportunities for students to develop creative passions but also teach communication, language, and leadership in unique ways that inspire individualism.
Alice in Wonderland
This year's Primary Production "Alice in Wonderland" featured a cast of 170 students and was held on 14th and 18th November. It was presented through special arrangement with Music Theatre International (MTI) and featured all primary school students from PS to Grade 5. The young performers presented outstanding singing, acting and dancing skills to a sellout crowd on both nights.
The show must go online!
OSC presented the first-ever virtual musical by a Sri Lankan school in May 2020 – "The Show Must Go Online!" The virtual production featured 12 students from grade 3, 4 and 5. This was a novel experience for both the cast and the audience and was presented through special arrangement with Beat by Beat Press.
SAISA Music and Art
In February 2020, around 18 students from Grades 8-12 participated in a joint SAISA Music and Art event, at ASB in Mumbai, India. We were very fortunate that we were able to complete this trip before COVID-19 really hit. In fact, at the time we went to India, there were only three cases of COVID-19 in the whole country! The Music students enjoyed a fantastic weekend of rehearsals, culminating in a final concert on the last afternoon, which was live streamed around the world, as well as performed to the local ASB community. It was a wonderful opportunity for them to play as part of a much larger ensemble. For the Art students, they enjoyed participating in gallery visits in downtown Mumbai, as well as a host of workshops during the event, and their time finished in an Art exhibition in the central atrium, along with an afternoon tea buffet. As at any SAISA event, our students enjoyed the chance to meet new friends from other SAISA schools, and catch up with old ones. Unlike the sports trips, however, the Arts trips are not competitive, just a chance to meet up and make music and art together.
Oliver! by Lionel Bart
Winning the Tony Award for Best Original Score in 1963, Lionel Bart's Oliver! is based upon the novel Oliver Twist by Charles Dickens. It premiered in the West End in 1960, enjoying a long run (2,618 performances in London), before further success on Broadway when it was brought to the US by producer David Merrick in 1963. Additionally, its 1968 film adaptation, directed by Carol Reed, was hugely successful, winning six Academy Awards including Best Picture. OSC's production of Oliver! was performed by forty students across Grades 6 to 12 and supported by a live 12-piece dynamic band. This spectacularly wonderful performance, through plenty of action, solos and chorus numbers and a unique thrust stage, brought forth several provocative themes: society and class, poverty, and criminality. The final performance culminated in a special Gala event, with a 3-course meal provided by Mount Lavinia Hotel.
Chicken Bones for the Teenage Soup by Alan Haehnel
This event could not happen due to COVID-19, and having to go into lockdown three weeks prior to opening night. The Middle School production was to be Alan Haehnel's short comedy, Chicken Bones for the Teenage Soup (2004); a stage adaptation of the mega popular book series it parodies; Chicken Soup for the Teenage Soul by Jack Canfield, Mark Victor Hansen and Kimberly Kirberger (1997). In the book series, it states, "...every teenager can relate to and learn from its 101 stories without feeling criticized or judged; the stories contain important lessons on the nature of friendship and love, the importance of belief in the future, and the value of respect for oneself and others." However, in our performance, the numerous scenes and diverse characters illustrated various sentimental moments from everyday life, only to be repeatedly crushed by sardonic twists of cruel fate...so, unlike the book series, this play was to be a comic ode to pessimism which we felt every audience member could relate to.
ISTA TaPS, Kuala Lumpur
The Overseas School of Colombo has had a long and happy relationship with the International Schools Theatre Association (ISTA), having been host to the occasional festival over the past two decades (more recently, we hosted the MS festival in 2016, and were due to host in November 2020). ISTA is an excellent organisation that seeks to bring drama students from around the world together in order to engage in three-day intensive practical workshops, led by first-rate theatre professionals and teachers.
This year, eight OSC participants from DP1 and DP2 Theatre were exposed to various theatre traditions and practices via different mediums: Balinese Topeng, Wayang Kulit, Japanese Butoh, Silat Tua: The Malay Dance of Life, elements of scenography, and much more. Over the three days, participants had the opportunity to work in ensembles creating connections and opportunities for artistic inspiration. They collaborated with a range of theatre practitioners as well as with other like-minded young people and gained new insights into how artists incubate concepts from seedlings into fully grown performances. As always, at the end of every ISTA, everyone returned to OSC feeling empowered and deeply enriched!
Spring Gala
Over 80 students from Grade 6-12 were due to perform in the annual Spring Gala, which was very sadly cancelled due to COVID-19. All the main OSC ensembles had rehearsed diligently since August 2019, so it was a great pity that they were unable to share their wonderful music. Ensembles that were going to perform were the Concert Band, Middle School Voice, Boys' Voice, Senior Voice, The Gecko Singers and the Classical Guitar Ensemble. There was also an amazing array of soloists lined up to perform, including singers and instrumentalists, playing and singing a range of musical styles including classical, jazz, and popular. There was also a combination number involving a ballet dancer being accompanied by violinists. It was hoped that this event could go ahead later in the semester, but the lockdown put pay to that. The students, however, were able to gain a lot from the rehearsal process, even if they were not able to share their work with an audience in the end.